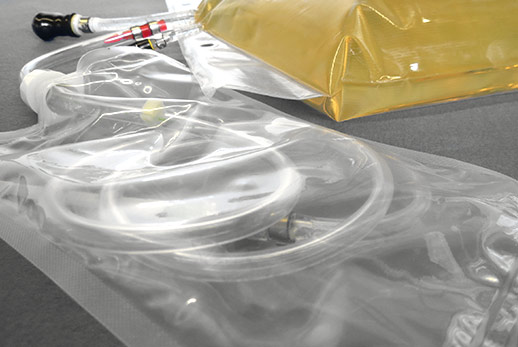 Patented VDA packaging
Due to the uncompromisingly high demands we place on the VDA system as regards sterility and functional reliability, we have developed and patented our own VDA packaging. This packaging is available in 5-litre and 10-litre variants and is similar in design to a hanging infusion bag. The conical design at the outlet guarantees safe emptying down to the last drop. The product removal hose is an integral part of the packaging and does not have to be purchased or attached separately. The bags and tubes form one sterile unit (ready to use). The packaging also enables sterile HACCP-compliant sampling.
Complete in-house production chain
The VDA packaging including its hose kit is assembled by hand at the company headquarters in Oy-Mittelberg from as many as 30 individual components in accordance with the highest quality requirements. Each individual production step for a single VDA bag can be traced by serial number and QR code for maximum transparency and security. Sterile filtration and filling of the VDA lactase also takes place entirely at our company headquarters.
This means that the entire production chain, from packaging production to sterile filtration and filling of the lactase, is traceable and under our control at all times.