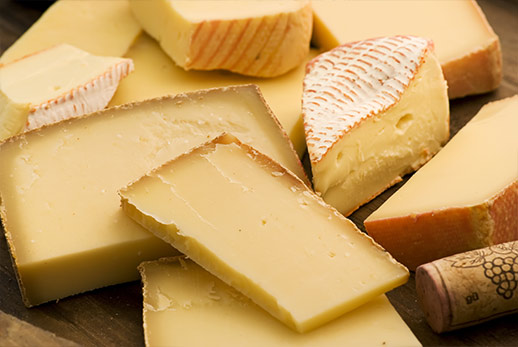 Cheese
Thanks to our large selection and individualisation options, we have the right culture for every product area, ensuring that your cheese will achieve exactly the desired result. We will be happy to advise you on which culture is best for your needs.
Starter cultures
freeze-dried and deep-frozen cultures
as a direct starter or bulk starter
suitable for the entire range of cheeses, from classic and cottage cheese to quark, sour milk cheese and soft cheese to semi-hard cheese, hard cheese and large-hole cheese
extensive range of different technologies, correspondingly large selection and combination capability of starter cultures
wide selection of cultures and appropriate rotations for producing mozzarella and pasta filata
Our starter cultures used for cheese production are defined microorganisms, which we select according to specific properties and performance characteristics. They guarantee uniform and consistent cheese quality with optimum yield and contribute to production reliability. The high acidification activity of our starter cultures guarantees a safe and constant acidification. The cultures support the formation and stability of flavours due to their pronounced proteolytic activity and good flavour-forming capacity. When selecting the strains for our starter cultures, we attach particular importance to culture mixtures that are as phage-resistant as possible.
Protective cultures
against yeasts, moulds, listeria and clostridia
for the structural and sensory stability of your products without affecting taste, flavour and texture
improved shelf life of the products
controlled ripening through natural protection against unwanted flora
cultures used in production are not affected